Local Company with the Best Janitors in Bloomington IL
Pro Kleen Solutions is a locally owned and operated commercial cleaner offering office cleaning from the best janitors in Bloomington IL. Our company realizes just how important it is for your small business to be clean. Your company's image, productivity, and profitability all rely in part on the cleanliness of your commercial space. Our janitors make it their mission to provide your business with the cleanest possible property. We train our commercial cleaning experts in methods that work for a variety of business environments that include:
We use best cleaning practices, the best equipment and top cleaning agents from the best commercial cleaners in Bloomington IL. However, we will not expect you to take our word for it. We feel confident when you search for the "best janitors in Bloomington IL" that you will see our company receives top scores on customer reviews. Schedule service or request a free quote now. We can create a custom cleaning plan to meet your needs and budget.
Why Choose Pro Kleen Solutions Janitors?
Your business deserves services from the absolute best janitors in Bloomington IL. That is why our company works so hard to exceed customer expectations. We feel our services provide you with the best return on your investment because we go beyond basic cleaning. Here are a few reasons why we feel our company is your best option:
More than 10 years of experience with commercial cleaning
Professionally trained commercial cleaning experts
Custom cleaning plans optimized to provide minimal intrusion on your business operations at an attractive price that works for your budget
What to Expect with Our Janitorial Services
Outsourcing your business cleaning to Pro Kleen Solutions allows your company to focus on its customers and core business activities. Our experienced janitors save you the time, money, and resources it takes to keep your commercial cleaning in-house. So, give your business an edge on efficiency with the best janitors in Bloomington IL. Our janitorial services include:
Cleaning of hard flooring
Dusting
Lobby cleaning
Trash Removal
Restroom cleaning
Window washing
Break room or office kitchen cleaning
Top Benefits of Our Janitorial Services
Your business can experience many great benefits when you outsource cleaning to the best janitors in Bloomington IL. Great benefits we can provide you include:
Maintain a Strong Brand Image for Your Business – The level of cleanliness at your business leaves a lasting impression on both your customers and your employees. Your business will benefit from a perceived higher level of care and attention to detail.
Cost Savings – Outsourcing to our janitors saves you the costs associated with paying salaries and benefits to in-house cleaning staff. Plus, you save even more money by eliminating the cost of purchasing your own cleaning supplies and equipment. In addition, our services keep office furniture and equipment in good condition, delaying the cost of buying replacement flooring, machines, and chairs.
Healthier Workplaces Boost Productivity and Profitability – A clean workplace can cut employee absenteeism by as much as 46 percent. On average, employees take 8 sick days every year. Unexpected absences reduce productivity by 54% and cause around a 39% drop in sales or customer service. Our janitors can provide a healthier workplace to reduce absenteeism and increase productivity and sales for your company.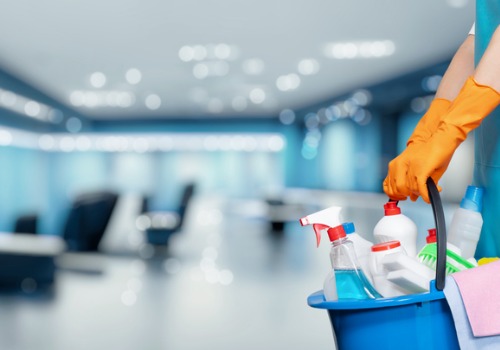 Contact Our Local Janitors
Give Pro Kleen Solutions a call when you want commercial cleaning services from the best janitors in Bloomington IL. Call 309-328-8312 to discuss a custom cleaning plan for your business. Use our online contact form now to request a free estimate.