Local Pros Equipped for Healthcare Cleaning in Bloomington IL
Pro Kleen Solutions provides a wide range of services equipped to provide the best healthcare cleaning in Bloomington IL. Healthcare facilities pose unique challenges when it comes to professional cleaning services. Unfortunately, not all local janitorial and cleaning companies are equipped to tackle all those challenges. However, Pro Kleen Solutions understands what it takes to keep providing a healthy clean for healthcare facilities. Our cleaning professionals use techniques that reduce cross-contamination and healthcare-associated infections.
Pro Kleen Solutions also understands that the effectiveness of cleaning solutions goes beyond appearances alone. With more than 10 years of cleaning experience, our company contains all the tools and cleaning methods it takes to provide a healthy clean. Our company has become one of the most trusted local services for healthcare cleaning in Bloomington IL. Our clients rely on us because of the integrity, professionalism, and commitment to quality we bring to each job.
In addition to healthcare cleaning, we also provide janitorial services, commercial cleaning, office cleaning, post construction cleaning, and property management cleaning. Contact us today for a free quote for our services.
Avoid Cross-Contamination with Healthcare Cleaning in Bloomington IL
Pro Kleen Solutions bring all the right tools and proper cleaning methods to minimize risk of cross-contamination with healthcare cleaning in Bloomington IL. We use microfiber wiping clothes and floor mopping pads that capture and hold microorganisms and dirt more effectively. Plus, we frequently change out wiping pads and cloths to minimize the risk of spreading bacteria. As a result, we provide efficient and safe deep cleaning, disinfection services, and healthcare cleaning.
Versatile Services for All Kinds of Healthcare Facilities
Pro Kleen Solutions works with a variety of businesses when it comes to healthcare cleaning in Bloomington IL. We can provide a healthy clean for any of the following:
Dialysis Centers
Dental Offices
Nursing Homes
Hospice Facilities
Health Clinics
Hospitals
Medical Offices
Outpatient Clinics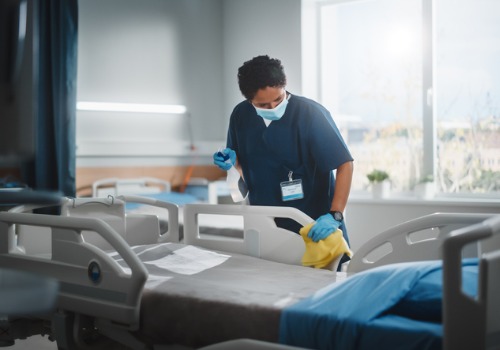 Our Methods Keep Patients Healthy
Your medical office or healthcare clinic needs cleaning and disinfecting methods that provide consistent and effective cleaning solutions. Otherwise, your facility will find it hard to keep a large amount of people coming and going from passing diseases. Furthermore, the products used for your cleaning services cannot cause any allergic or caustic reactions to patients who touch surfaces. We can customize our cleaning solutions to make sure they do not affect the health of your patients.
Contact us for Healthcare Cleaning in Bloomington IL
Not all cleaning companies are equipped to handle healthcare cleaning, but Pro Kleen Solutions professionals provide a safe and healthy clean. Call us today at 309-328-8312 to schedule the services you need. In addition, you can also email us at info@prokleenpeoria.com or use our online contact form to request a free quote. No matter what your needs are, we can customize cleaning solutions to meet the challenges of your facility. Avoid cross-contamination and keep your patients healthy with our methods and tools designed to prevent the spread of diseases.