Top Professional Services for Business Cleaning in Bloomington IL
Pro Kleen Solutions brings professionalism, integrity, and commitment as a top local professional service for business cleaning in Bloomington IL. We provide customized cleaning services for commercial clients from many different industries. For starters, our cleaning professionals can handle daily, weekly, or scheduled janitorial services for many different types of businesses. In addition, we can provide deep cleaning or disinfection for companies that need office cleaning. Plus, we can provide specialized services for healthcare cleaning, post construction sites, and property management companies.
We are a locally owned and operated cleaning services provider that caters our services to the needs of our clients. Our professionals take pride in the work they do and in providing customer satisfaction. We can create a custom cleaning program that works around your schedule and fits your budget. No matter the size of your business, we provide excellent service and exceed customer expectations with our cleaning solutions.
Call 309-328-8312 to discuss the needs of your business today. For a free quote, send us an email at info@prokleenpeoria.com or use our online contact form. We look forward to serving your needs.
Flooring and Carpeting
Pro Kleen Solutions provides a variety of flooring cleaning services as part of our solutions for business cleaning in Bloomington IL. Our professionals can sweep up and remove dust and debris. We can clean up contaminants and mop tile flooring. In addition, we can wax floors to give your business that pristine look that will attract more customers to your business.
We also provide solutions that clean up carpeted services. From vacuuming to odors to carpet stains, we can take care of it all for you. In case of emergency, let us know how to help. We can respond quickly to prevent stains from reappearing and causing long-term damage to your carpet.
Window and Glass Surfaces
If you have a retail business, entertain clients at your office, or rely on foot traffic, you need windows and glass surfaces to look clean. After all, companies with fingerprint smudges on windows, doors, and glass displays look unprofessional. Plus, regular cleaning of windows and glass helps to extend their useful life. Hard water, debris, and dirt that collects on your glass and windows will do harmful damage over time. Therefore, you can maintain the professional look you want and better maintain your property with our business cleaning in Bloomington IL.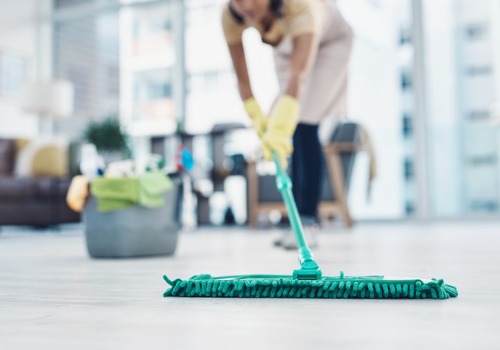 Dusting and Trash Removal
Deposits of bacteria, dust, and microbes on frequently touched surfaces at your business can contribute to the spread of disease. To prevent infection, your business needs to keep high-traffic areas and commonly used touchpoints clean. In addition, trash needs to be removed to avoid infestation of pests. Garbage collection spots can attract rats, mosquitos, cockroaches, and flies. All those pests can spread disease. Pro Kleen Solutions can provide regularly scheduled services that help you prevent any contamination from dust or garbage. Contact us for customized solutions when you need business cleaning in Bloomington IL.
Contact Us for Business Cleaning in Bloomington IL
Pro Kleen Solutions wants to learn about the unique cleaning solutions that you need for your business. Give us a call now at 309-328-8312 to develop a customized cleaning plan with our professionals. Use our online contact form today to request a free quote. We can provide your business with an attractive appearance and keep your customers and employees healthy with cleaning services designed specifically to fit your needs, budget, and schedule.