Top Reviewed Services for Office Cleaning Near You
The Pro Kleen Solutions team brings you 5-star rated services when you need office cleaning near you in Peoria IL. We cater our dependable and reliable cleaning solutions to meet the unique challenges of your office space. Our company understands that you need healthy, clean, and safe conditions in your office to keep your team motivated, productive, and healthy. As a result, we go the extra mile to ensure proper disinfection and sanitization services minimize the spread of diseases. For that reason, we provide the following:
Dusting and Wiping Surfaces
Vacuuming
Glass Cleaning
Deep Clean Floor Cleaning
Cleaning and Disinfecting Service
COVID-19 Prevention Sanitation
Disinfection Mopping
Deep Carpet Cleaning
Sanitization on all toilets, basins, doors, and elevators
Refills on soap, sanitizer dispensers, and toilet paper
Emptying and washing waste bins
Thanks to our commitment to exceeding customer expectations, Pro Kleen has become one of the most trusted services for office cleaning near you in Peoria IL. Tell us about your operations. Then, we can customize a cleaning schedule that will minimize the intrusion into your daily business operations. Contact us today to discuss services that interest you.
Clean Environments Boost Employee Morale
A recent study concluded that workers feel lower levels of work-related stress, anxiety, and depression in clean office settings. In fact, 60% of people reported feeling less stressed in a clean environment. In addition, a clean office atmosphere remains essential to prevent the spread of illnesses among employees. Regular office cleaning services help to remove allergens, pathogens, bacteria, and viruses from the office, enabling workers to fall ill less often. Pro Kleen Solutions understands the importance of a happy and healthy workforce. So, count on us for the best results when it comes to office cleaning near you in Peoria IL.
Increase Productivity with Regular Office Cleanings
Scheduling regular office cleanings is one of the easiest and most effective steps you can take toward a more productive workforce. In fact, a recent survey conducted by Clorox found that 72% of those polled reported higher productivity when working in a clean office space. Plus, it goes without saying that minimizing the risk of contamination to an illness can keep your team more productive. The average adult will fall ill 2 to 5 times during the year. However, you can take steps toward reducing those numbers with Pro Kleen office cleaning near you in Peoria IL.
Maintain More Professionalism
Clean office spaces speak to the level of attention and care that you put into work activities. Thus, you can impress clients, investors, or visitors to your office with a clean and professional workplace. They will feel more confident about your abilities when they see how dedicated your company is about keeping employees and workspaces clean. Scheduling regular office cleanings also will ensure that you never get caught off-guard. So, you will be well-prepared to receive guests at short notice. For that reason, contact Pro Kleen for regular office cleaning near you in Peoria IL.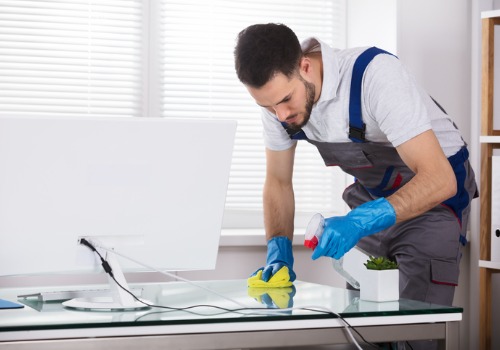 Other Commercial Cleaning Services Available
In addition to office cleaning near you, Pro Kleen provides many other commercial cleaning services. Rely on our dependable and diligent team when you need any of the following:
Business Cleaning Services
Deep Cleaning
Schedule the Best Services for Office Cleaning Near You
Keep your employees happier, healthier, more productive and in a more professional environment with Pro Kleen office cleaning near you in Peoria IL. Request a free quote or schedule services with us today. Simply send us an email to info@prokleenpeoria.com or call 309-328-8312. We can work with you to develop a customized cleaning plan.