Dependable Property Management Cleaning in Washington IL
Maintain the spotless image and attractiveness of your managed property with Pro Kleen Solutions property management cleaning in Washington IL. Whether your property is an office building, condo complex, warehouse, distribution center, or a shopping center, you know cleanliness is critical. Therefore, you need consistent and timely services need from a reliable property cleaning company. Count on our locally owned and operated company to deliver the dependable cleaning services that you need for your property.
Pro Kleen has the knowledge and experience to tackle any challenge. We aim to reduce the time your property spends vacant between tenants. In addition, our company will build a strong rapport with both tenants and your property management company. We bring professionalism, integrity, and a commitment to providing a quality clean to all our clients. Consequently, we have become a trusted local source for property management cleaning in Washington IL. Since we are a family-owned small business, we understand how important it is for your Central Illinois business to impress tenants. Get a free estimate by calling 309-220-6942 or by using our online form.
Nothing scares away prospective tenants faster than a dirty and foul-smelling leasing office, maintenance office, or office space for rent. Do not forget about the impact that office space makes for your managed property. Most tenants either start their relationship or continue to grow it in office space at your property management company. Therefore, you can let tenants know that you pay attention to small details and care about them by keeping offices spotless. With Pro Kleen Solutions, you can get anything from daily janitorial services to deep cleaning. Contact us for reliable office and property management cleaning in Washington IL.
Parking Areas
Often overlooked by property managers, parking areas provide your company with another way to impress or scare away potential tenants. After all, prospective tenants get their first impression of a property when they drive up to it. If your parking areas feature lots of trash, debris, and overgrown weeds, it provides an unattractive picture for your prospective tenant. Renters are much less likely to choose your property with a grimy and odor-filled parking area. However, you can avoid making a bad impression by hiring Pro Kleen Solutions. Our cleaning specialists can rid your parking areas of the mess with our property management cleaning in Washington IL.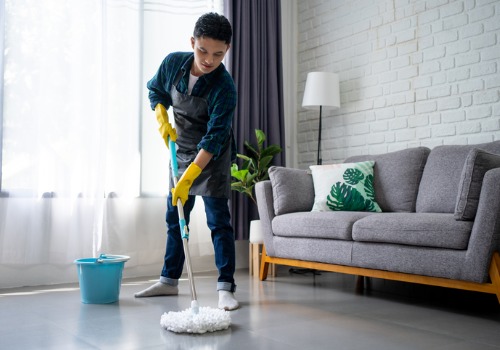 Vacant Property Cleaning
When a tenant leaves your property, they likely leave behind dirt, trash, and unwanted property. Those are all things you need to clean out before you show your vacant rental property to a prospective tenant. The longer it takes to get all that grime removed, the longer your property will take to generate revenue. So, count on Pro Kleen Solutions to get your vacant rental property spotless and ready to show to your next potential renter. You never know when your property will catch the eye of your next tenant. Therefore, you need it to be always clean and tidy. Give us a call to get your vacant property clean with our services for property management cleaning in Washington IL.
Get a Quote for Property Management Cleaning in Washington IL
The Pro Kleen Solutions team provides timely and consistent cleaning services that you need to keep your rental properties generating revenue. Request a free quote today for property management cleaning. Get more information by sending us an email at rbwoodscleaning@gmail.com or by filling out our convenient online form. For more specific concerns, you can also give us a call at 309-220-6942. Our cleaners are always ready, standing by to help you fill your vacant rental units as quickly as possible.