Top Services from a Commercial Cleaning Company in Peoria IL
Rely on Pro Kleen Solutions for affordable services from a top commercial cleaning company in Peoria IL. Our versatile cleaning professionals know how to make a variety of work environments healthy, clean, and safe. As a result, we handle cleaning for everything from offices to healthcare facilities to post-construction sites, and large housing complexes for property management firms. Plus, our services go beyond basic cleaning. In fact, we can provide deep cleaning, disinfection, or regularly scheduled janitorial services if you need them.
We provide commercial cleaning services near you that provide the highest quality cleaning backed by our decade of experience. Our local, family-owned company prides itself on performing work with integrity and professionalism. Furthermore, we work hard to ensure you receive services that completely satisfy your needs.
If you would like a free estimate, please contact us online now. You can also send us an email at info@prokleenpeoria.com. Call 309-328-8312 to speak with one of our friendly representatives on the phone. You can count on Pro Kleen for dependable and affordable services that provide healthy and spotless workspaces for your business.
Health Facility Commercial Cleaning Services
To protect patients, visitors, and employees, you need thorough cleaning and disinfection services from a top commercial cleaning company in Peoria IL. Our professionals understand and follow strict regulations and codes that are required for medical facilities. We will provide all the proper cleaning procedures to cleanse surfaces from microbial contaminants that spread disease. Plus, our team will prevent cross-contamination of surfaces with proper sanitization. In addition, we can dispose of all the medical waste at your facility.
Office Space Commercial Cleaning
Each office requires services customized to handle its unique needs from a top commercial cleaning company in Peoria IL. Pro Kleen can reduce the amount of inconvenience to your business with a specialized cleaning schedule. If you have a high-traffic office, we can help mitigate your increased exposure to germs. Meanwhile, we can sanitize surfaces in small offices to ensure that employees working in close contact with each other do not pass diseases.
As a result, you receive services that provide the preventative, proactive approach to sanitization and disinfection that your office requires. No matter the size or scope of your company, our qualified cleaning professionals can keep your office clean, healthy, and looking spotless. Plus, we will work with you to provide a schedule that suits your needs.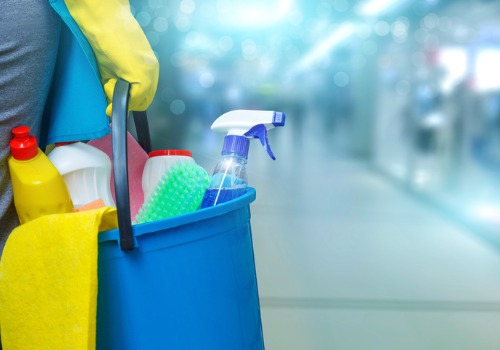 Property Management Commercial Cleaning
Apartment complexes or multi-family housing units need to attract tenants. However, you cannot impress renters with dirty common areas, elevators, and windows. Quality tenants look for apartments and condominiums with a clean and spotless image. Unfortunately, many communal spaces on the property can take a beating as time passes, and it shows. Heavy foot traffic will soil carpets or other floor coverings. So, we can provide a cleaning plan that focuses on durability and maintenance to prevent the deterioration of materials at your property. Thus, you can attract and retain quality tenants with help from our commercial cleaning company.
Request a Free Quote
Pro Kleen Solutions will respond promptly when you want a free quote from our commercial cleaning company. Simply give us a call at 309-328-8312 or use our online form. We are your home for comprehensive commercial cleaning services. So, let our well-trained professionals make your workspace safe and clean today!