Company Near Me with the Best Janitors in Peoria County IL
Pro Kleen Solutions provides a thorough 6-step cleaning process, communication, and the best janitors in Peoria County IL. As a result, your business receives the best commercial cleaning services available. Holding our employees accountable is how we manage our team to ensure you get maximum return on investment. Our company uses proprietary software that requires employees to clock in only when they reach your business. Then, we require our janitors take pictures before, during, and after our work to show you the quality of our results. Contact us today to request a free estimate or consultation for custom cleaning plan for your business.
Our Selection of Commercial Cleaning Services
Pro Kleen Solutions provides a wide variety of business cleaning solutions and the best janitors in Peoria County IL. Please let us know if we can provide you with any of the following cleaning solutions:
Our Cleaning Process
Pro Kleen Solutions uses a 6-step cleaning process to assure quality from the best janitors in Peoria County IL. Our process involves the following services:
Preparation – We make sure our janitors fully stock their carts with cleaning chemicals, safety signage, keys, toiletries, and cleaning equipment before they leave for each cleaning project. Plus, we use proprietary software that only allows them to clock in for work once they arrive at your business.
Priority Cleaning – Our janitors begin by making it a priority to provide clean and sanitary conditions in high-traffic areas like breakrooms and bathrooms. Cleaning these areas thoroughly helps to eliminate the threat of viruses and bacteria spreading among your staff and visitors.
Trash Collection – Next, we collect all garbage, replace trash bags, and deposit those items in the designated refuse container for your business.
Wipe Down – Then, we dust and wipe down high-traffic touchpoints and other surfaces around your business. Our janitors use proper cloths to wipe down wooden surfaces, glass, desktops, tabletops, and counters.
Floor Care – In our next step, we vacuum, mop, or sweep all the different kinds of flooring at your business.
Inspection – Finally, our janitors take the final step to cleaning success by conducting thorough walkthroughs and inspections to catch anything we might have missed. As mentioned, we use photos to show the state of things before we started work, during our process, and after our work was complete. That way, you get to see visual evidence of the quality of our service.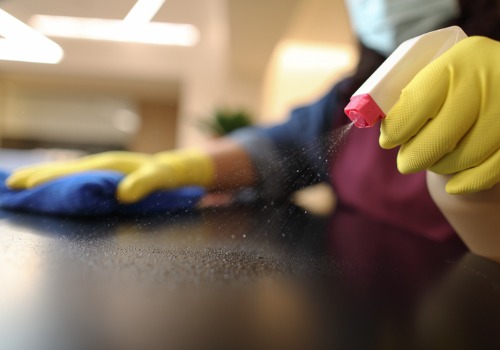 Contact the Best Janitors in Peoria County IL
Pro Kleen Solutions can provide each client with a custom cleaning plan, a thorough cleaning process, and the best janitors in Peoria County IL. That is how we make sure you receive the most for your investment. Plus, we take pictures throughout the process so you can see the results. If you need quality commercial cleaning solutions, give us a call now at 309-328-8312. Also, you can email us at info@prokleenpeoria.com or fill out our online contact form for any other information you need.